Update: As of 6/27, Ecwid has de-platformed Panzer Street Wear's webstore; Facebook has terminated their store and Cody's fake pages; Kimberly has locked down her Facebook account and removed the white power shirts from the Panzer instagram. Big Cartel deplatformed them in March. Disney has been notified about copyright violations. Their PayPal account's status is unknown. If you have any more info, please reach out to panicinthediscord@riseup.net. For more information about Kim's Hitler house and personal life, please see our latest article.
Welcome to #PanzerDox. This is our debut article, in which we lay bare the network of a white-power clothing company and its supporters. #PanzerDox is a collaboration between Colorado Springs Antifascists, Utah 161, Panic! in the Discord, and Corvallis Against Fascism.
In these days of fighting the tide of white nationalism, sometimes the fascist chuds make it easy for researchers to identity them by wearing pro-nationalist tee shirts. This time they were created by Panzer Street Wear, essentially turning that organization into a honeypot for identifying their neo-nazi client base, fans and of course, their very own selves. This series wouldn't have been possible without the info from trashabilly!
There is so much white power propaganda to unpack here (we almost threw away the whole rotten suitcase) so we're going to go through the Panzer Street Wear website and then take a deep dive into the two public faces of Panzer Street Wear: Cody Monroe Reynolds, of Endeavor, WI and his partner, Kimberly Dawn West, of Crawfordsville, IN:
CW for hella racist images:
From the Panzer Street Wear landing page, which lets everyone know right away that things are going to be fashy:
Then there's the clothing. The proprietors, Cody Reynolds and Kimberly West, claim that they design all of these try-hard limp energy not-cute luks:
Here is the direct link to page and archived page.
Panzer Street Wear uses the payment processor Paypal, which has been known to occasionally boot white nationalists from its payment platform:
Here is the link to the Panzer Paypal processor page archive
And Panzer's web host service is Ecwid:
Ecwid's terms of service has no specific mention of a hate-speech clause, but it does mention that vendor accounts can be canceled without a reason. Here's hoping one of those reasons can be Panzer Street Wear outfitting men, women, and children in white-power regalia.
Cody and Kimberly's shirt designs for men can be found on Panzer's website, which we have archived (so as to not give them any clicks or traffic) here. Going further in this article, the archived links of the Panzer website sections will be used as the primary link from which all the screenshots originate.
These shirts explicitly promote white power, Nazi, and white nationalist language and imagery, including but not limited to iconography of sonnenrads, iron crosses, white power Celtic crosses, totenkopfs (as further popularized by another neo-Nazi group, Atomwaffen Division), Schutzstaffel aka SS bolts, confederate flags, peckerwood birds, and the palm tree image of Hitler's Afrika Korps alongside messages supporting the murder of communists, using ritualized Viking torture on those who turn on the fascist movement, and the Kristian "Varg" Vikernes church burnings, at first glance. We're sure there are more in there.
In addition to their men's wear, here is the archived Panzer's women's line, which clearly shows they only have a few femmes supporting their fascist agenda by wearing ugly shirts. Taken from their website:
From there, we move on to the archived stickers section, with more of the same above-mentioned Nazi imagery of iron crosses, totenkopfs, German eagle, peckerwoods, and casual chatter of murdering people with whom Kimberly and Cody do not agree, per their website.
Panzer's pins section offers a host of anti-antifa messages. Since "antifa" is short for "anti-fascist," people who are anti-antifa are best described simply as fascists, which is an accurate description of these Panzer jagoffs. Those anti-communist and anti-antifa sentiments stem from the Anti-Communist Action, a movement which has deep ties to the neo-Nazi accelerationist movement, published by Unicorn Riot in an investigation from 2017. As one might expect, Panzer Street Wear's messaging features Nazi imagery and the murders of people whom Cody and Kimberly disagree with, per their original page:
Panzer's anti-communist and peckerwood patches must be cold commodities, as there are only four options. Maybe business is bad? Source page is here
Panzer's on-sale page is a rehash of all of the white power symbols previously mentioned, sonnenrads, peckerwood, a play on Joy Division's iconic shirt. For those who are unaware, the band Joy Division was named after the practice of sexual slavery, human trafficking, and rape wing of 10 Nazi concentration camps mentioned in the 1955 novella House of Dolls and in the documentary Memory of the Camps. Additionally, shirts with white power cross and a crucified skinhead, and iron cross, are also on sale. Panzer's original page can be found here.
Just in case the tour d'fascism wasn't disturbing enough, Cody and Kimberly of Panzer Street Wear have their own line of shirts for children. The youth-sized white-power shirts include the shirts include the Afrika Korps logo with the original Nazi swastika replaced with Panzer's logo; one with the confederate flag; and references to the Nazi panzer tank division in North Africa during World War II. Original page is here
Cody and Kimberly also have a Facebook feeder page to the main site.
How do we know that Kimberly West and Cody Reynolds are behind these monstrous images of dehumanization, torture, violence and murder emblazoned with the Nazi and racist images?
They brag about it:
Above images taken from "Miles Long" Facebook archive. Cody Reynolds posts his face and children on almost all the profiles. Oh, and one of his Panzer Street Wear supporters calls him by his real name when he's being sad about pudding.
Who's the "her" Cody is referencing about the pudding? Odds are, it's Kimberly West, his business partner:
On their Facebook pages (now archived), "Miles Long" writes a post thanking people for their generosity, which he signs a with "Cody," and includes a numerical Venmo address. In the attached update, Kimberly addresses the same fundraising situation connected to "Miles's" Venmo account number.
We plugged that numerical series into Venmo and got the solid gold confirmation: "Miles Long" is Cody Reynolds.
And what does "Miles" aka Cody's Venmo show us? Two people paying for shirts, two people donating:
It's clear that "Miles Long" aka Cody Reynolds, along with Kimberly West, is responsible for the sale and distribution of Panzer Street Wear's white-power, racist, pro-fascist, white-nationalist shirts, pins, and stickers glorifying Hitler, torture, and murder.
What else can we learn about these two? Let's take a deeper dive into that scummy looking bonehead and move on to Hitler Barbie.
Cody Monroe Reynolds, born February 19, 1979, has a few social media profiles with some pretty ridiculous names, running at least three Facebook accounts: "Miles Long," "Richard Beater," and "Heerr Ferkel."  How do we know Cody runs all three accounts? He tells us in the archived page
And then we confirmed it: "Miles Long" (archive) is also Cody Reynolds:
And then Cody's Heerr Ferkel page, archived here, following the same marketing idea of heavy Panzer Street Wear promotion:
And then Cody's Richard Beater page:
And then through some magic of brain geniusery, "Cody's Miles" Long archived Facebook page has the pronunciation of the Richard Beater name, along with Panzer images and his own face again:
We learn a bit about who Cody/"Miles"/"Richard/Heerr" is as a person: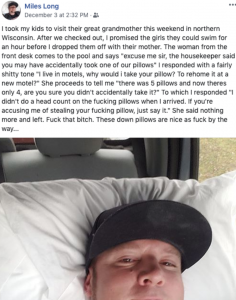 Seems like a charmer, yes? Cody Monroe Reynolds is a 41-year-old with a miles-long history of being a racist and being involved in white supremacist groups. When Cody lived on Craig Ave in Madison, WI from 2001 to 2004, he used the email address ameriskin88 [at] yahoo, which is connected to the same username on the Stormfront forum post (direct link and archive)
He also used upstartskin [at] worldnet [dot] att [dot] net for an email address. For an overview on the Stormfront aka "White Pride Worldwide" internet forums, see SPLC's article.
For employment, Cody left a life of restaurant work and became a welder at his own Vollmacht industries, per his 2016 Linkedin account, which we have archived:
But then the place caught fire and Cody started a gofundme which we archived to help rebuild after he lost all of the equipment, but the fundraiser didn't do too well:
Vollmacht literally translates to "power of attorney" from German to English. We're thinking he meant something like "power of authority" but nope, that's what it is. Which is sort of fitting, as the building is in someone else's name and that person probably holds more authority over Cody than he's comfortable admitting.
Through a publicly-available property records search, we see that Vollmacht Industries, LLC, once located at 613 Memphis Avenue Madison, WI is still owned by someone close to Cody. Interestingly, that person doesn't have any white power garbage on her social medias so it is unclear if she knew that the person with whom she was raising two young girls, is a hardcore Hitler-loving nationalist.
Cody has a PO box in Crawfordsville, IN. He was arrested for a DUI there earlier this year, where he listed Crawfordsville as his home: 
Which is pretty interesting because his business partner posted pics of her very fashy license plate registered in Indiana, which we archived. Special thanks to a tipster!
That's a real interesting 'UBR FRAU' license plate, wonder if it connects to anything? Of course it does! Kimberly's Ford Flex VIN is 2FMGK5CC0CBD19120. Remember their Panzer Street Wear Facebook page? Well, 'Uber Frau' is the URL of the page, which we promptly archived.
Similar to Cody, Kimberly West has lots of aliases on her Facebook page, (which we archived) all of them traceable to one another. Kimberly West was Tricia Westfall then Gretyl Grimm and now Kimberly West. But her face and Nazi worship remain the same:
Wait, is that a knockoff nazi hat in the thumbnails of her archived fb profile?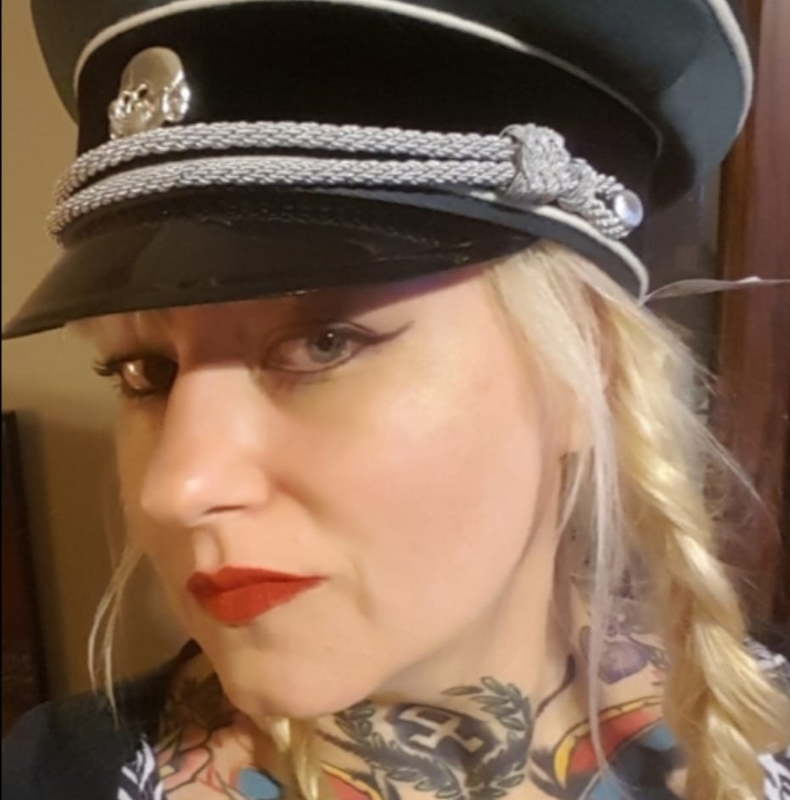 Kimberly LouiseWest aka Gretyl Grimm, born August 7, 1987, shares a home with a few children with Cody Reynolds. Cody aka "Miles" is holding Kimberly's cat Hitler doll, presumably in the home in a comment:
CW: photos of a freaking shrine to Hitler below
And their home is a Hitler home, because of course it is. How do we know? Her initial Facebook [dot] com [slash] kimberly [dot] westfall [dot] 94 is now defunct but we still have screenshots of the interior of the home. Kimberly posted emojis over the swastikas in this following photos, ostensibly to avoid getting child protective services called on her
And there's more from Kimberly's archived Facebook page. Again, we put the star over the kid's face to protect identity, Kimberly, the mother, put hearts and flowers over the swastikas:
So where is this Hitler house? Brock Ervin, whose name is on the sign behind the kids, ran for the House of Representatives in the 41st District of Indiana, which includes Lebanon and Crawfordsville, IN: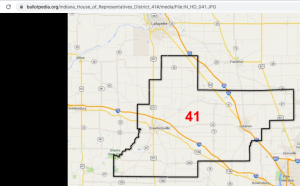 We don't know exactly what the address is for Kimberly and Cody's Hitler home. But we are very keen to learn it! Due to the publishing requirements of this platform, we can't directly share personal information like phone numbers and home addresses. However, you can view that redacted information here, on a separate website.
So what can folks do about these white power chuds in Indiana and Wisconsin? De-platform them. Deplatforming makes it really hard for merchants to sell their goods if no one wants to host them, resulting in them figuring out something else to do to make money and ideally, getting out of the white nationalist universe altogether. We surmise that Big Cartel removed Panzer Street Wear as a vendor due to their politics, thanks to some before and after screenshots.
Let's see what Paypal, Ecwid and Facebook have to say about supporting white power individuals, groups, and merchandise. Surely, they're not on the wrong side of supporting fascists? Let's see!
Action List
As always, we keep us safe! Let's keep these fash off the webs and out of our hair.
If you have any additional tips about Cody, Kimberly or other fascists in Indiana or elsewhere, please send them to panicinthediscord@riseup.net or DM them to @discord__panic on Twitter